Universal Tire Pressure Sensor Activation Tool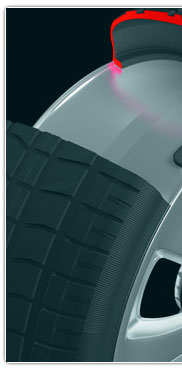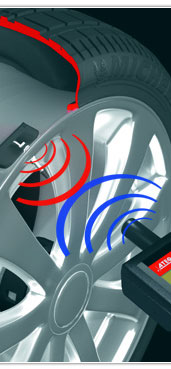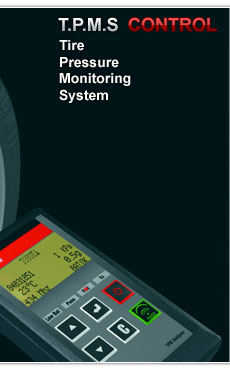 Challenge:

New Federal Mandate and Tire Pressure Monitoring Systems...



The Federal law requiring new passenger vehicles to be outfitted with Tire Pressure Monitoring Systems (TPMS) has produced a wide variety of solutions. Many automobile manufacturers have selected the direct approach. This approach incorporates the use of a transmitter built into the valve stem that transmits information (inflation pressure, sensor id, temperature, etc.) to the vehicle control module. Each time the tires/wheels are rotated, the sensors need to be retrained with their new position, thereby requiring the need for a tool that "triggers" or "programs" the transmitter at the appropriate time during servicing.

There are dozens of different Tire Pressure Monitoring Sensors manufactured today with various triggering techniques including magnetic and electronic frequency sensor initiation. Additionally, multiple frequency bands are used to carry the transmitted signal to the vehicle control module. This results in the requirement for service facilities to purchase multiple TPMS service tools.

GWR and Premier Nitrogen, after investigations, significant research and finalization meetings, has decided to work with the largest of manufacturers of TPMS service tools. Their patented technology and VT55 tool eliminates the need to purchase multiple TPMS tools. This tool accommodates both magnetically and electronically triggered tire pressure sensors.
ATEQ was founded in 1975 with the vision of replacing all the traditional production line leak detection methods for water testing with computerized leak testers. ATEQ is now the number one world supplier in the TPMS (Tire Pressure Monitoring System) field and supplies an entire range of TPMS activation tools for both assembly lines and tire repair shops. From it's initial successes in Western Europe, thirty-five years after its creation, ATEQ is now a $50 million global company with offices in 22 countries. ATEQ built a unique international network with engineers that have designed and now sell the TPMS line to more than 5000 car assembly manufacturers and suppliers.

Some of the OEM Accounts currently serviced by ATEQ
Audi
TPMS

CitroŽn
TPMS

Daewoo
TPMS

Daimler
TPMS

Ferrari
TPMS

FIAT
TPMS

Ford
TPMS

GM
TPMS

Honda
TPMS

Hyundai
TPMS

Jaguar
TPMS

Jeep
TPMS

KIA
TPMS

Lancia
TPMS

Land-Rover
TPMS

Mazda
TPMS

Mitsubishi
TPMS

Nissan
TPMS

Peugeot
TPMS

Porsche
TPMS

Renault
TPMS

Subaru
TPMS

Toyota
TPMS

Volkswagen
TPMS

Now, 30 years later, here are ATEQ's achievements:

* More than 5000 customer references including large multinational companies such as Toyota, GM, Baxter, Sony, HP, ...etc

* More than 55,000 instruments sold and serviced in 32 countries.

* 3200 production line instruments and more than 30 000 TPMS products sold every year. This is more than any of our nearest competitors and probably more than all of them combined.

* 21 wholly owned ATEQ subsidiaries spread across the most developed countries in the world, plus 12 specialized local representatives the combination of which covers virtually all industrialized parts of the world.

* We are also the only leak testing and TPMS company to sell and service instruments everywhere.


Number 1 in the industry, ATEQ exclusively offers....

TPMS Trigger Tools range :

ATEQ has just introduced the world's first TPMS product line for tire repair shops that is able to activate TPMS sensors from all manufacturers. In addition ATEQ has also developed the first easy to use internet synchronization software that enables customers to upgrade their TPMS tools with new sensor protocols.

TPMS Tool Universality :

ATEQ supplies car manufacturer's assembly lines with TPMS sensor activation systems. ATEQ has access to the most up to date technology on the market as well as the latest TPMS sensor protocols. This means that with ATEQ you are guaranteed your TPMS tool will always be in the forefront of what's available at any given time.

TPMS Support :

ATEQ is one of the largest companies in the TPMS industry. ATEQ can supply and service our products all over the world thus providing excellent service standards to our customers. Having a global advantage in the market enables ATEQ to guarantee customer satisfaction in both the quality of the instrument and the level of service and technical support our customers need.

Reference Customers :

Reference TPMS customers include: Ford, GM, Chrysler, Toyota, Nissan, Honda, Mitsubishi, Mazda, Subaru, Hyundai, Kia, Samsung, Daewoo, Renault, Peugeot, Citroen, Iveco, Land-Rover, Volkswagen, BMW, Mercedes, Audi, Fiat, Schrader, TRW, SmartTire, Continental and Siemens.
ATEQ's VT55 "The Cadillac of the Line"
What this brief video to see how really simple this tool is to use, no other tool even comes close.


The ATEQ VT55 OBDII TPMS activation tool is the most advanced way to synchronize and turn the tire warning light OFF !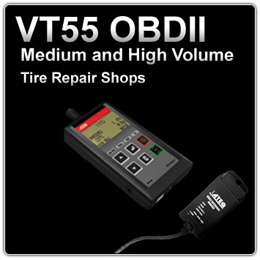 On top of the latest US manufactured vehicles, the ATEQ VT55 OBDII reprograms Asian and European vehicles (including Toyota, Honda, Nissan, Hyundai, Kia, Mitsubishi etc) which do not feature a TPMS self reprogramming software.

ATEQ's VT55 OBDII includes a universal OBD connector which connects to the vehicle ECU via CANbus and K-line.

Technicians only have to select the make of the vehicle and press the START button. It is that easy and fast to accurately activate, decode TPMS sensors and display their data or any faults they may have.

Training is nearly inexistent as the whole process is displayed on-screen. Even the newest recruited technician can use the VT55 OBDII because they simply follow on-screen instructions as they'll guide you through the procedure to trigger the tires.

Forever up to date with Plug & Play Internet synchronization. This is extremely important because you never know the brand of the next TPMS valve you might encounter!

The VT 55 OBDII has a unique interface that is so easy to use, it puts the competitors to shame. The technology is so advanced that it is patented! The TPMS sensors database, classified by car manufacturers, is built into the tool and is constantly updated when ever you go online.

The VT55 OBDII is equipped with a built-in RS232 connector as well as a USB connector. Combined with a PC software and a cable included in its box, the VT55 OBDII can synchronize with our online sensors protocols database.

It is as simple as selecting the car maker you wish to test and then press the "TEST" button. You'll never have to turn down a customer again, every vehicle can be worked on without the aid of an expensive scanner tool.

| | |
| --- | --- |
| The VT55 OBDII unit is also an RF key tester. Simply position it next to the key, press the key and read its signal on your device to make sure it functions correctly. | |
| | The VT55 OBDII Kit even comes with a high quality protective case and rubber cover for added durability against breakage. |

ATEQ's VT55 OBDII is a universal TPMS sensor activator that can also program the vehicle ECU if required. Compatible with all currently known TPMS sensors, it has a built in synchronization software that makes sure that it stays up-to-date with all the new TPMS sensors introduced every year. The VT55 OBDII is equipped with the latest advanced stream decoding technology that can trigger and decode sensors much faster and more accurately than previous generation devices.

Designed to last in rough environments like tire repair shops, comes with plastic cover and leather case. The VT55 OBDII can handle high volume testing for an entire day due to its rechargeable battery. The VT55 OBDII triggers all newly mounted TPMS sensors, reprograms the car ECU and turns the warning light off. The VT55 OBDII uses the relearn option of the vehicle ECU software if available or uses the OBD connector whenever required. ATEQ's VT55 OBDII decodes the sensor data and ensures that the correct Tire Pressure Monitoring Sensor is being read and that the RF transmission doesn't come from key fobs or other sensors.

This unique and patented tool allows the operator to display the data on screen but also to transfer it to a PC, print out results and then show the customer which TPMS is faulty and why. The tool displays : sensor ID, pressure, battery status, temperature, accelerometer etc.

VT55 OBDII's OBD software is compatible with all Asian and European vehicle brands that require OBD synchronization and its software is updateable by using a standard USB cable hooked to a PC. The very simple PC interface guides the user through a minimum of steps. An upgradeable TPMS tool has never been so important, brand new Tire Pressure Monitoring Sensors are being fitted to new car models at an increasing rate.

ATEQ has a dedicated team that tracks all new TPMS Sensors introduced to the market. They constantly make sure the VT55 TPMS tool can be updated with those sensors months or years before they actually reach your garage.

You will NOT find a better service anywhere else, because ATEQ supplies car assembly plants that gives them access to new TPMS protocols long before anyone else.

The VT55 OBDII comes all equipped with an OBD universal connector, a charger for its battery, a rubber protection and carrying pouch, a magnet to trigger certain models of TPMS sensors, as well as a USB cable and software to update the tool with a PC.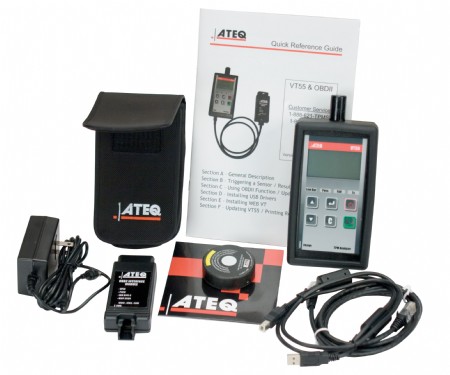 MFG's & Models

ATEQ VT55 OBDII
Kit
Bartec
400
Bartec
300
Bartec
300 (f/ NAPA)
KTI
Tips
Prices
Call, save $100's on promotions
Carquest $1,995, American Tire
Distributor $1,600
Various Venders $700 to $900
NAPA #1520
$699
Tips $469 Snap-On $629, MAC $629, MATCO $531
Triggers All Know
TPMS Sensors
YES
YES
NO
*YES
NO
ECU Reprogramming via OBDII for Japanese & Korean Cars
YES
YES
N/A
*Needs Additional
Module 1521 $700
NO
Ease of Use
Manufacturers Name Only
NO
Requires Mfg, Make & Model
Requires Mfg, Make & Model
NO
Compatible w/ Future Sensors
YES
YES
NO
*YES
Questionable
LCD Display
YES
YES
No / LED Lights Only
SMALL
No / LED Lights Only
RF Key Tester
YES
NO
NO
NO
NO
Rechargeable Batteries
YES
YES
No / 9 Volt
No / 9 Volt
NO
Annual Updates
$150
$350
N/A
N/A
NAPA $160
Mfg. Suggested List $
$1,495

$2,699

$909
N/A
$750
FEATURES
VT55 OBDII....
Universal TPMS tool.
(Triggers all currently known sensors)
Key tester
(Read RF signal on your device)
Compatible with future sensors.
(Internet upgrade)
Large LCD display
On-screen selection for faster recognition
(One touch and your unit is set and ready)
Advanced stream decoding
(Faster signal recognition)
Rechargeable batteries
(No searching for batteries when a job is waiting)
ECU reprogramming extension
(OBDII Programmer)
ATEQ VT55 OBDII - Complete Specifications
Sensor Compatibility
Universal tool Ė selection by car manufacturers. Simply select the car maker in the menu and the VT55 will find the sensor from all the sensors used by that car maker on all its model
New Sensors Compatibility
The VT55 remains always up to date thanks to its built-in internet synchronization software. One year subscription offered
Radio Reception
2 to 4 (option) frequencies of reception to chose from 315 MHz - 433.92 MHz - 434.42MHz. The VT55 can also test a RF Remote Keyless Entry system
Indicators
Buzzer and reception led indicators PASS / FAIL

Display
Depending on what the sensor sends, the VT55 will display sensor ID, pressure, battery state, temperature and accelerometer information.
Connectors
USB - RS232 port with included USB cable and PC driver and software.

Power Supply
Powered with Li-Ion rechargeable batteries with charger - low battery status

Weight
250 g (8.82 ounces)

Dimensions
150mm (5.91") Height x 80mm (3.15") Width x 25mm (0.98") Depth

Options
Valve simulator, Bluetooth, Protective holster

Some of the Models this unit covers....
Acura (MDX, RDX, RL, TL, TSX)
Audi (A3, A4, A5, A6, A8, Q7, R8, RS 4, S4, S5, S6, S8, TT)
BMW (128i, 135i, 328i, 328xi, 335xi, 528i, 528xi, 535i, 535xi, 550i, 650i, 750i, 750Li, 760Li, Alpina, M Coupe, M Roadster, M3, M5, M6, X3, X5, Z4)
Buick (Enclave, LaCrosse, Lucerne)
Cadillac (CTS, DTS, Escalade, Escalade ESV, Escalade EXT, SRX, STS, XLR)
Chevrolet (Avalanche, Aveo, Cab & Chassis Silverado, Chevy Express, Cobalt, Colorado, Corvette, Cutaway, Equinox, HHR, Impala, Malibu, Malibu Classic, RV Cutaway, Silverado, Suburban, Tahoe, TrailBlazer, Uplander)
Chrysler (300, Aspen, Crossfire, Pacifica, PT Cruiser, Sebring, Town & Country)
Dodge (Avenger, Cab & Chassis, Caliber, Charger, Dakota, Durango, Grand Caravan, Magnum, Nitro, Pickup, Sprinter, Viper)
Ford (Crown Victoria, E450 Super Duty, Econoline, Edge, Escape, Expedition, Expedition EL, Explorer, Explorer Sport Trac,F450 Super Duty, F550 Super Duty, Focus, Fusion, Mustang, Pickup, Ranger, Taurus, Taurus X)
GMC (Acadia, Cab & Chassis Sierra, Canyon, Envoy, Savana, Savana Camper Special, Savana Special, Sierra, Yukon, Yukon XL)
Honda (Accord, Civic, CR-V, Element, Fit, Odyssey, Pilot, Ridgeline, S2000)
Hummer (H2, H3)
Hyundai (Accent, Azera, Elantra, Entourage, Santa Fe, Sonata, Tiburon, Tucson, Veracruz)
Infiniti (EX35, FX35, FX45, G35, G37, M35, M45, QX56)
Isuzu (Ascender, i-290, i-370)
Jaguar (S-Type, XJ8, XJR, XK8, XKR, X-Type)
Jeep (Commander, Compass, Grand Cherokee, Liberty, Patriot, Wrangler)
Kia (Amanti, Optima, Rio, Rio5, Rondo, Sedona, Sorento, Spectra, Spectra5, Sportage)
Land Rover (LR2, LR3, Range Rover, Range Rover Sport)
Lexus (ES 350, GS 350, GS 450h, GS 460, GX 470, IS 250, IS 350, IS F, LS 460, LS 460L, LS 600hL, LX 570, RX 350, RX 400h, SC 430)
Lincoln (Mark LT, MKX, MKZ, Navigator, Navigator L)
Mazda (3, 5, 6, B2300, B4000, CX-7, CX-9, MX-5 Miata, RX-8, Tribute)
Mercedes-Benz (C300, C350, CL550, CL600, CL63, CL65, CLK350, CLK550, CLK63, CLS550, CLS63, E320, E350, E550, E63, G500, G55, GL320, GL450, GL550, ML320, ML350, ML550, ML63, R320, R350, S550, S600, S63, S65, SL55, SL550, SL600, SL65, SLK280, SLK350, SLK55, SLR)
Mercury (Grand Marquis, Mariner, Milan, Mountaineer, Sable)
Mini (Cooper)
Mitsubishi (Eclipse, Endeavor, Galant, Lancer, Outlander, Raider)
Nissan (350Z, Altima, Armada, Frontier, Maxima, Pathfinder, Quest, Rogue, Sentra, Titan, Versa, Xterra)
Pontiac (G5, G6, G8, Grand Prix, Solstice, Torrent, Vibe)
Porsche (911, Boxster, Cayenne, Cayman)
Saab (3-Sep, 5-Sep, 9-7X)
Saturn (Astra, Aura, Outlook, Sky, Vue)
Scion (tC, xB, xD)
Subaru (Forester, Impreza, Legacy, Outback, Tribeca, Forenza, Grand Vitara, Reno, SX4, XL7)
Toyota (4Runner, Avalon, Camry, Camry Solara, Corolla, FJ Cruiser, Highlander, Land Cruiser, Matrix, Prius, RAV4, Sequoia, Sienna, Tacoma, Tundra, Yaris)
Volkswagen (Eos, GLI, GTI, Jetta, New Beetle, Passat, R32, Rabbit, Touareg)
Volvo (C30, C70, S40, S60, S80, V50, V70, XC70, XC90)

Be sure to add this invaluable accessory to your order, you will need it!
A faulty TPMS sensor can be dangerous eventhough it has been created to reduce risks.

But what can go wrong in a TPMS sensor ?

1- The pressure sensor port might be plugged by tire repair sealants.

2- The wrong pressure range might have been applied to the sensor, thus providing a difference between your gauge and TPMS reading.

3- The pressure sensor chamber might be leaking and has a manufacturers defect.

Only ONE way to make sure !
Introducing the TPMS sensor check box !

Compare the TPMS pressure reading displayed on your ATEQ VT55 TPMS tool with the pressure displayed on your pressure gauge

.

ATEQ TPMS check box complete specifications


Equipment required to carry the test

ATEQ TPMS Box, Air Supply w/ Pressure gauge, ATEQ VT55 TPMS sensor decoder to read the pressure value of the sensor from within the box.

TPMS Sensor compatibility

All currently known TPMS sensors on the market

New Sensors compatibility

As long as they fit inside the box, they are compatible

Maximum test pressure (approx.)

Standard pneumatic dual connection on the back. One to connect air supply and an optional one to check the calibration of the gauge you are using.

Dimensions

H x W x D mm (inches)

125 (4.92")x 120 (4.72")x 85 (3.35")

Valve simulator - Bluetooth - Protective holster

What are you going to do? How do you reprogram sensors in your shop?

All new vehicles and most used cars are equipped with tire pressure monitoring sensors. Additionally most all of these systems use a "direct" approach which incorporates the use of wheel based transmitters or sensors (typically incorporated into the valve stem). These report tire pressure (in addition to the sensor ID) to the engine control module (ECM) or some specific controller module on the vehicle. For most of these vehicles, specifically those that use TPMS positioning indicators on the instrument cluster or electronic vehicle information console (EVIC), each time that you rotate tries / wheels (or if a defective sensor is replaced) the TPMS sensors must be retrained or reprogrammed in order to properly inform the driver of the correct vehicle location for a low or high pressure tire. If the receivers are not reprogrammed, the system will continue to report the correct pressures, but they will be reported in the wrong position on the vehicle information console or instrument cluster. Each time the tires are rotated or the wheel positions are changed the system must be reprogrammed to recognize the new location.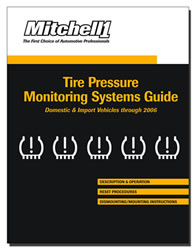 The ATEQ Universal TPMS Activation Tool automatically chooses the correct triggering protocol or allows the user to select the desired protocol. What makes this tool unique is that it has been designed to trigger ALL known magnetic and frequency triggered tire sensors that have been installed at the factory by original equipment manufactures.


A simple four-step process that solves your problems, in just minutes...
1. Before changing or rotating tires/wheels, identify the type of system and perform a diagnostic check of all wheel sensors. This assures all sensors are working properly before performing maintenance on the vehicle.
2. Change or rotate tires and wheels
3. Aim the VT55 at the sensors, push the button and simply follow the simple instructions on the LED panel.
The tool is cost effective and extremely simple to use. They are heavy duty and designed to stand up to harsh shop environments, including resisting numerous oils and fluids found in today's shops. Most importantly, the unit is constantly upgrading so that the newest formats can are downloaded into the tool for ease and functionality.
GWR Part.... #20 VT55-OBD
Please call 1(800) 266-4497 to order
(Same day shipping, direct from factory)
back to...
Nitrogen Dispensing Machine
Copyright GWR/Premier/Igralub 2009